Up for a trip into the world's coldest museum?
Learn about climate changes, wildlife and humans living in the highlands. Experience thowing permafrost and melting snow fields. Discover the sensational Secrets of the Ice: Artifacts surfacing from the melting ice. Visit the world's coldest museum while you still can.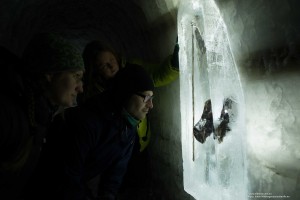 In short
The climate park is an outdoor experience. On the guided tour you follow a knowledgeable guide telling you about the mountains and the climate. At the end of the tour you enter the highlight – the icetunnel in the Juvfonne snow drift. The guided tours in the climate park starts from Juuvasshytta, approximately 45 minutes drive from the town Lom.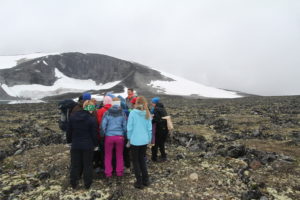 Daily guiding
Between June 24th and August 25th 2019 there are guided tours twice a day. From August 26th to September 16th we only have guided trips during the weekends. You by your ticet online, and meet up at Juvasshytta for your set time. The guide will take you through the climate park and into the world's coldest museum. The tour is accessible to everyone. Remember warm clothes!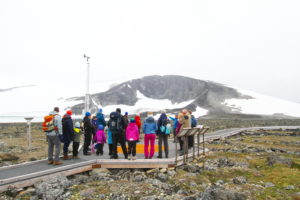 Guiding groups
We happily take your group or school class on guided walks in the climate park. Each group can have up to 20 persons, and will have their own guide. Please contact us to make an appointment!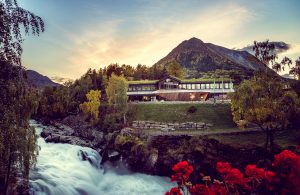 Norwegian Mountain Center
Get tips for your mountain hike and visit the brand nex exhibition at the Norwegian Mountain Center. You can explore more findings from the ice, learn about the start of moutain tourism, get wet in the weather room or create your own landscape with sand and water. The center is situated in the town Lom, and you are given 50 % discount on the entrance ticket if you got a ticket for the climate park. Read more? Visit norskfjellsenter.no.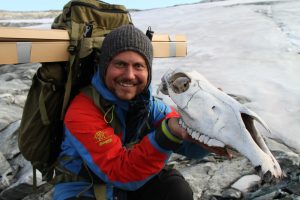 Glacier archaeology
Did you know that more than 2000 artefacts melted out of the ice patches in the Oppland region the last years? Follow the glacier archeologists on secretsoftheice.no.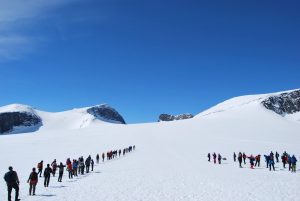 Galdhøpiggen
Combine your visit in the climate park with a day hike to the highest peak in Norway, Galdhøpiggen. From the mountain lodge Juvasshytta there are guided hikes across the Styggebreen glacier to Galdhøpiggen every day the whole summer. The hike takes appr. 6 hours. On days with fine weather the view from the top is stunning! If you want to hire your own guide, you can find recommended guides here: visitjotunheimen.no.